Istennek fia , aki született… Karácsony szent este..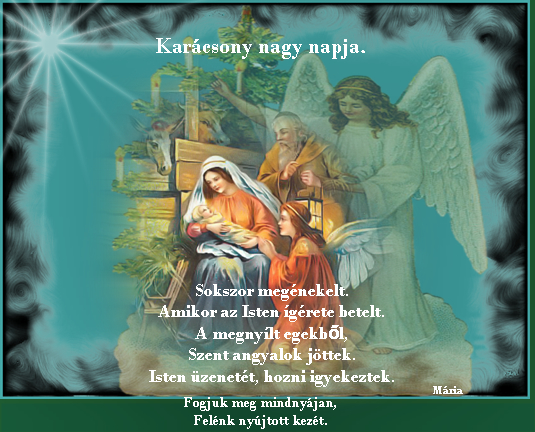 Mennyb?l az angyal lejött hozzátok,
pásztorok, pásztorok!
Hogy Betlehembe sietve menvén
lássátok, lássátok.
Istennek fia , aki született
jászolban, jászolban,
Õ leszen néktek üdvözítõtök
valóban, valóban.
Mellette vagyon az édesanyja,
Mária, Mária.
Barmok közt fekszik, jászolban nyugszik szent fia,
szent fia.
El is menének köszöntésre
azonnal, azonnal,
Szép ajándékot vivén szívükben
magukkal, magukkal.
A kis Jézuskát egyenl?képpen imádják, imádják,
A nagy Úristent ilyen nagy jóért mind áldják, mind áldják.
Aranyosi Ervin:
Öltöztesd szívedet karácsonyi díszbe!
Öltöztesd szívedet karácsonyi díszbe,
csak a jó szándékot engedd be a szívbe,
mert amíg kedvesség, szeretet vezérel,
hidd el, szomorúság, bánat úgysem ér el. Ezt a szeretetet tedd be egy csomagba,
s boldog lesz, ki ilyen ajándékot kap ma!
Arcodra tégy mosolyt, fényl?t és kedveset,
örömet okozni, meglásd, így is lehet! Gyújts reményt szívekbe, néhány kedves szóval,
s meglátod nyomában kevesebb a sóhaj!
Nyújts segít? kezet, éhesnek kenyeret,
karácsony ünnepe legyen a szeretet. Bár múlik az ünnep, a szeretet maradjon,
együtt érz? szíved, azután is adjon!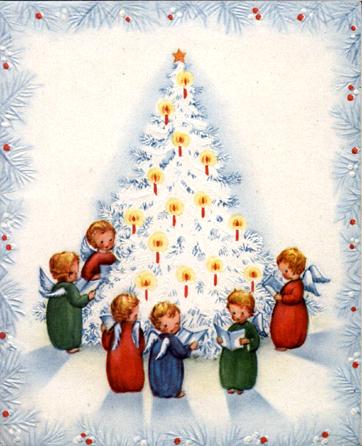 Karácsonyra nem kérek mást, csak újabb 365 napot.
Mialatt, mit elrontottam, apránként kijavíthatok.
Esélyt kérek, ezret, százat, hogy egyre jobb legyek,
S ha bántottalak id?k során, gyógyírt hozhassak Neked.
Legyen id?m gyógyítani fájó lelki sebeket, s
Legyen id?m újra fogni elengedett kezeket.
Legyen id?m nevetésre, meghitt pillanatokra,
Legyen id?m mindarra, mi mosolyt csal az arcokra.